Discover Texas Industries
Date Published

Apr 10, 2019

Category

Business, Community Involvement, Events, General Info, Travel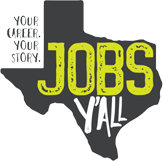 Explore good-paying and meaningful careers in growing industries through Jobs Y'all.
The Jobs Y'all career exploration campaign and website launched to raise awareness about the opportunities and benefits of Texas industries, to inspire and attract young Texans to explore careers, and understand the education and training needed to best position themselves for where the jobs will be when they enter the workforce.
This campaign, initiated by the Texas Workforce Commission, was developed in response to employer and industry feedback that the fast-growing industries and occupations are not on the radar of young Texans who would benefit from understanding career opportunities and the education and training pathways needed to enter the workforce with the right skills. The resources are here to help students, and their parents, teachers, counselors and mentors explore top industries and develop career goals.