Governor Abbott Takes Executive Action To Contain Spread Of COVID-19
Date Published

Jun 26, 2020

Category

Business, Events, General Info
GOVERNOR ABBOTT ESTABLISHES STATEWIDE FACE COVERING REQUIREMENT, RESTRICTS GATHERINGS
Governor Greg Abbott today issued an Executive Order requiring all Texans to wear a face covering over the nose and mouth in public spaces in counties with 20 or more positive COVID-19 cases, with few exceptions. The Governor also issued a proclamation restricting outdoor gatherings of over 10 people, and making it mandatory that, with certain exceptions, people cannot be in groups larger than ten and must maintain six feet of social distancing from others.
The Alan E. Sims Recreation Center and Zula B. Wylie Public Library will be closed Friday, July 3 through Monday, July 6 to assess the most recent orders and ensure the safety of guests and employees.
"Wearing a face covering in public is proven to be one of the most effective ways we have to slow the spread of COVID-19," said Governor Abbott. "We have the ability to keep businesses open and move our economy forward so that Texans can continue to earn a paycheck, but it requires each of us to do our part to protect one another—and that means wearing a face covering in public spaces. Likewise, large gatherings are a clear contributor to the rise in COVID-19 cases. Restricting the size of groups gatherings will strengthen Texas' ability to corral this virus and keep Texans safe. We all have a responsibility to slow the spread of COVID-19 and keep our communities safe. If Texans commit to wearing face coverings in public spaces and follow the best health and safety practices, we can both slow the spread of COVID-19 and keep Texas open for business. I urge all Texans to wear a face covering in public, not just for their own health, but for the health of their families, friends, and for all our fellow Texans."
Additionally, the Governor released a new video message to coincide with his Executive Order, encouraging Texans to do their part to mitigate the spread of COVID-19 and keep their communities safe. The video can be downloaded at this linkand can also be viewed on YouTube.
View the Governor's Executive Order.
View the Governor's Proclamation.
Issued on June 26, 2020 I Press Release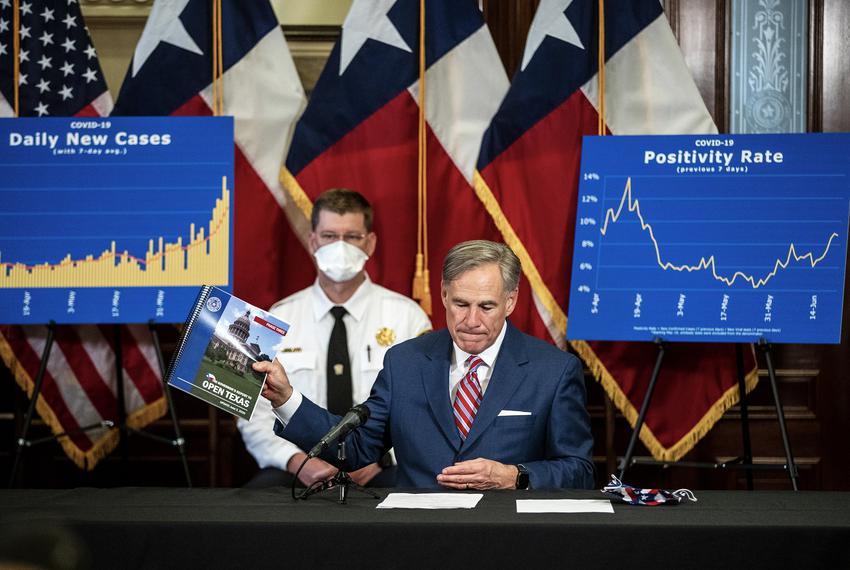 Limits Certain Businesses And Services With Direct Link To Infections
Governor Greg Abbott today issued an executive order limiting certain businesses and services as part of the state's efforts to contain the spread of COVID-19. This decision comes as the number of people testing positive for COVID-19 and the number of hospitalizations have increased and the positivity rate in Texas increased above 10%, which the Governor previously stated would lead to further preventative action. The targeted, measured directives in the executive order are based on links between certain types of businesses and services and the recent rise in positive cases throughout the state.
The order includes the following:
All bars and similar establishments that receive more than 51% of their gross receipts from the sale of alcoholic beverages are required to close at 12:00 PM today. These businesses may remain open for delivery and take-out, including for alcoholic beverages, as authorized by the Texas Alcoholic Beverage Commission.

Restaurants may remain open for dine-in service, but at a capacity not to exceed 50% of total listed indoor occupancy, beginning Monday, June 29, 2020.

Rafting and tubing businesses must close.

Outdoor gatherings of 100 or more people must be approved by local governments, with certain exceptions.
"As I said from the start, if the positivity rate rose above 10%, the State of Texas would take further action to mitigate the spread of COVID-19," said Governor Abbott. "At this time, it is clear that the rise in cases is largely driven by certain types of activities, including Texans congregating in bars. The actions in this executive order are essential to our mission to swiftly contain this virus and enhance public health. We want this to be as limited in duration as possible. However, we can only slow the spread if everyone in Texas does their part. Every Texan has a responsibility to themselves and their loved ones to wear a mask, wash their hands, stay six feet apart from others in public, and stay home if they can. I know that our collective action can lead to a reduction in the spread of COVID-19 because we have done it before, and we will do it again."
View the Governor's Executive Order.