CEDAR HILL EDC BOARD OF DIRECTORS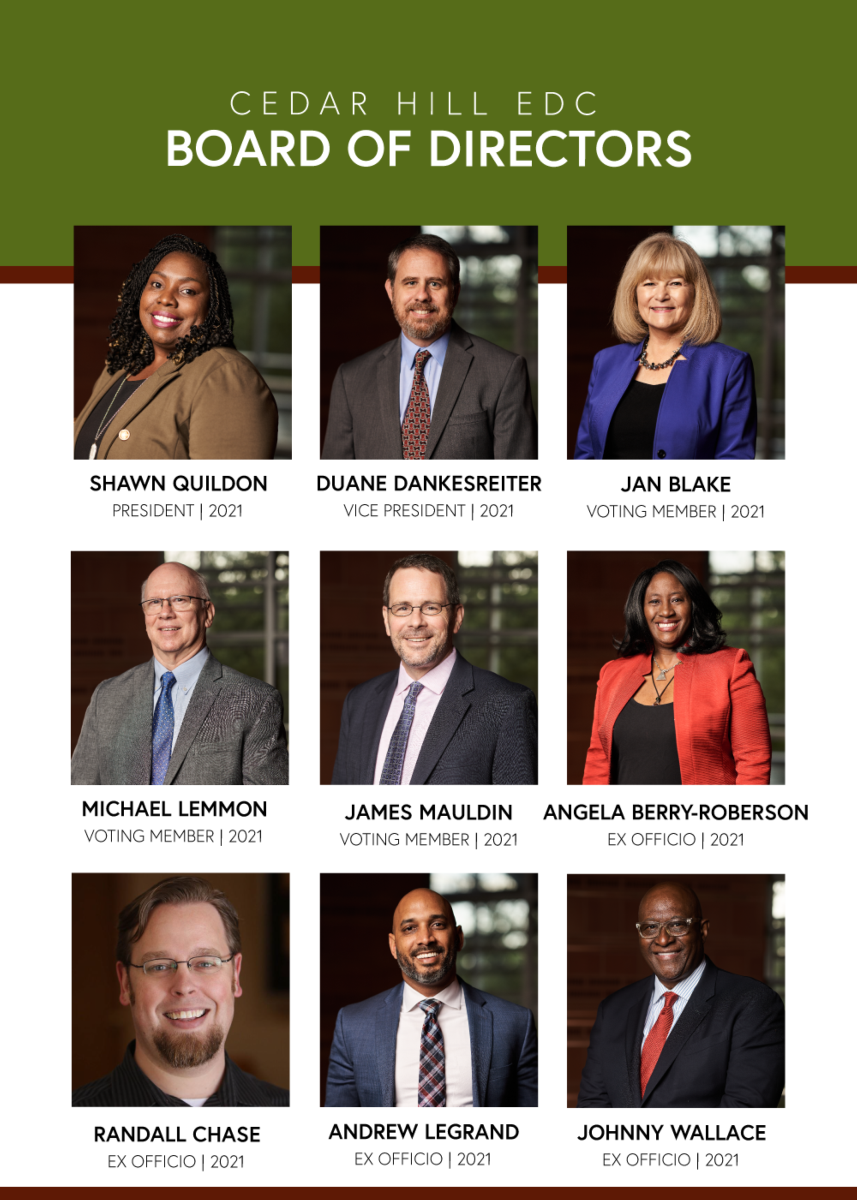 Board members must be residents of Cedar Hill and apply through the City of Cedar Hill City Secretary's office. Members are appointed by the City Council to serve on the Board. Regular EDC Board meetings are held at 6:00 p.m. on the 1st Monday of each month, unless otherwise announced, in the Economic Development Conference Room located on the 4th floor of the Cedar Hill Government Center located at 285 Uptown Blvd, Building 100, Cedar Hill, Texas, 75104. Meeting agendas are posted at the entrance of the Cedar Hill Government Center at least 72 hours prior to the start of the meeting. All meetings are open to the public.
CHEDC Board of Directors Meeting Schedule
2020
September 14*
October 5
November 2
December 7
2021
January 4
February 1
March 1
April 5
May 3
June 7
July 12*
August 2
September 13*
* All meeting dates are subject to change.
* Additional meetings may be called as-needed.
| | | |
| --- | --- | --- |
| June 2018 | | |
| July 2018 | | |
| August 2018 | | |
| August 23, 2018, Poss Quorum | | See Agenda |
| September 2018 | | |
| October 2018 | | |
| November 2018 | | |
| December 2018 | Canceled | None |
| January 2019 | Canceled | None |
| February 2019 | | |
| February 2019 Poss Quorum | | See agenda |
| March 2019 | | |
| April 2019 | | |
| May 2019 | | |
| June 2019 | | |
| July 2019 | | |
| August 2019 | | |
| September 2019 | | |
| October 2019 | | |
| November 2019 | | |
| December 2019 | | |
| January 2020 | | |
| Feb 2020 | | |
| March 2020 | | |
| April 2020 Closed Session | | |
| April 2020 Open Session | | |
| May 2020 | | |
| June 2020 | | |
| July 2020 | | |
| August 2020 | | |
| September 2020 | Agenda | Minutes |
| October 2020 | Agenda | Minutes |
| November 2, 2020 | Agenda | Minutes |
| November 9 2020 Special Meeting | Agenda | Minutes |
| November 13 Board Retreat | Agenda | See Agenda |
| December 7, 2020 | Agenda | Minutes |
| January 19, 2021 | Agenda | Minutes |
| February 1, 2021 | Agenda | Minutes |
| March 1, 2021 | Agenda | Minutes |
| March 15, 2021 (Special Meeting) | Agenda | Minutes |
| April 5, 2021 | Agenda | Minutes |
| May 3, 2021 | Agenda | Minutes |
| May 10, 2021 (Special Meeting) | Agenda | Minutes |
| June 7, 2021 | Agenda | Minutes |
| July 12, 2021 | Agenda | Minutes |
| August 2, 2021 | Agenda | Minutes |
| August 30, 2021 | Agenda | Minutes |
| September 7, 2021 | Agenda | Minutes |
| October 4, 2021 | Agenda | Minutes |
| November 1, 2021 | Agenda | Minutes |
| December 4, 2021 (Workshop) | Agenda | Minutes |
| December 6, 2021 | Agenda | Minutes |
| January 10, 2022 | Canceled | None |
| February 7, 2022 | Agenda | Minutes |
| March 7, 2022 | Agenda | Minutes |
| April 4, 2022 | Agenda | Minutes |
| May 9, 2022 | Agenda | |
CURRENT BOARD MEMBERS

TERM EXPIRES

Shawn Quildon, President

2022

Duane Dankesreiter, Vice President

2022

Michael Lemmon, voting member

2022

James Mauldin, voting member

2022

Jan Blake, voting member

2022

Johnny Wallace, ex officio

2022

Andrew LeGrand, ex officio

2022

Angela Berry-Roberson, ex officio

2022

Randall Chase, ex officio

2022