CEDAR HILL EDC HONORED WITH 2015 WORKFORCE EXCELLENCE AWARD
Date Published

Jun 04, 2015

Category

Business, Community Involvement, General Info
CEDAR HILL EDC AWARDED THE TEDC WORKFORCE EXCELLENCE AWARD
Cedar Hill, Texas (May 18, 2015) - It is with great pride that we announce that the Cedar Hill EDC has been awarded the Workforce Excellence Award by the Texas Economic Development Council for developing an innovative and collaborative workforce model in partnership with local industrial companies, education partners, and non-profits. This award would not be possible without the engaged City leadership, EDC Board, Dallas County Community College District, CHISD, and local business community for continued support of the initiative. Together, the Cedar Hill EDC can help businesses in the region grow by attracting and retaining a motivated workforce.
This award is recognizing the design of a replicable model. In 2016, Cedar Hill EDC will submit for recognition of results on the implementation strategy. There is a long list of partners integral to the success of this workforce model include but are not limited to:
In 2013, Pat Davis, from Cedar Valley College, worked countless hours with the EDC to develop a framework for a streamlined and collaborative process to recruit, train, and employ individuals for industrial careers. Together, we met with over 80 companies to understand their projected workforce needs, recruitment/retention struggles, and ideas for a better solution.
Rob McDonald, from idX, has been a true visionary, encouraging legislators, fellow businesses, and the community to support our work in the high school and with under-privileged communities. He has committed over 100 hours of his time to developing an implementation strategy. The results include the Project Elevate Summer Internship Program and our awareness campaign video project.
Superintendent Riddick has been a model leader who values the input and ideas of the local employers, to shape relevant curriculum and programs for Cedar Hill students. He has participated in forums, meetings, and observations tours to ensure that CHISD created meaningful partnerships with the community.
The Cedar Hill Education Foundation began their support of career exploration and workforce programs in our schools, with a $10,000 grant in 2013, and again in 2014. They continue to evolve their support of public-private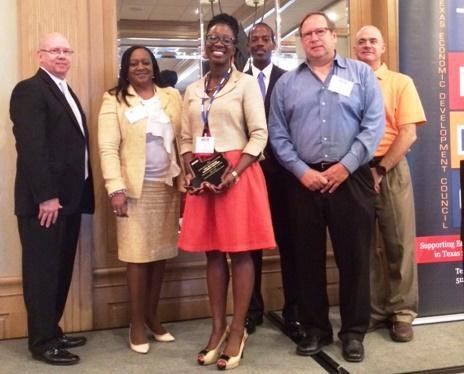 partnership in Cedar Hill, to produce career-ready students.
Pictured from left to right: Michael Lemmon (Cedar Hill EDC Board of Directors), Pat Davis (Cedar Valley College), Rob McDonald (idX), joined Erica Molett, Cedar Hill EDC Business Retention Manager, to accept the TEDC Workforce Excellence Award in Galveston, Texas at the annual mid-year conference award luncheon.
For more information on this award or the workforce model, call 972.291.5132 x4 or email [email protected].