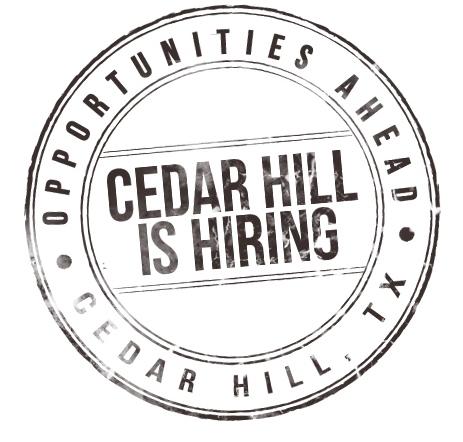 Cedar Hill, Texas is booming with development. From retail to industrial, there is opportunity everywhere you look. That's why the Cedar Hill EDC is building a new initiative to connect employers with potential candidates in Cedar Hill, Texas!
Customer Service Representative (Part-Time)
Seasonal Event Representative (PepRep)
PepWear is a growing organization that is dedicated to commemorating the achievements and accomplishments of youth through custom ordered apparel and onsite souvenir sales. We work directly with teachers and organizers all over the country as well as attend more than 600 school and youth events each year. We are always looking for energetic individuals to join our team.
OPEN CALL: Hiring for Cashiers, Sales, and Operations
On the spot interviews (walk-in's welcome) on: APRIL 25, 2017 from 2:00PM - 8:00PM
Click here for more details and benefits at JCPenney.
Address: 1585 Edgefield Way, Cedar Hill, TX 75104
Phone: (972) 299-6497
Full-Time Manufacturing – Saw Operator Trainee
Looking for a talented individual to can be train and operate a Messer CNC Burn and drilling center.
Summary: Produces burned parts by operating a computer numerical control (CNC) machine; maintaining quality and safety standards; keeping records; maintaining equipment and supplies, other duties may be assigned from time to time . . . read more.
Address: 301 N Joe Wilson Road, Cedar Hill, TX 75104
Phone: (972) 291-4209
Seeking: Assistant Apartment Manager & Leasing Consultant
MJB Wood Group, Inc/Precision Wood Products
Wood Manufacturing
1585 High Meadows Way, Cedar Hill, TX 75104
T: (972) 293-2252
Wood Manufacturing
621 Hall Street, Cedar Hill, TX 75104
T: (972) 637-1500
Metal Fabrication
660 Grigsby Way, Cedar Hill, TX 75104
T: (972) 272-0041
Woodmont Cabinetry/Western Cabinets Inc.
Cabinet Making
1001 Cedarview Dr, Cedar Hill, TX 75104
T: (972) 293-2450
Apparel Company
1540 High Meadows Way, Cedar Hill, TX 75104
T: (855) 737-9327
Concrete Contractor
930 Kck Way, Cedar Hill, TX 75104
(469) 523-0180
C.R. England Premier Truck Driving School
Driving School
1230 US-67, Cedar Hill, TX 75104
T: (469) 454-3060
1650 S Hwy 67, Cedar Hill, TX 75104
Non-Certified Technician, Urgent Care
345 N Hwy 67, Cedar Hill, TX 75104
Sprouts Farmers Market - Receiver
Plaza at Cedar Hill, 362 E FM 1382
Vending & Coffee Services
1111 E. Wintergreen Rd., Cedar Hill, TX 75104
T: (972) 572-5200
AmeriTex Vending has two immediate full time positions opening as a Utilities Worker and micro-market merchandiser for a career minded individual to join our team in Cedar Hill, TX. There is opportunity for advancement within the company. AmeriTex is a full-service vending company. Visit our website at www.ameritexvending.com for more information. The candidates' daily duties can consist of relief Vending Route Driver, relief Technician, and micro-market merchandiser. Applicant must be willing to learn and will be trained by our seasoned staff.

The Route Driver is the face of the company and must project a professional and positive image of AmeriTex at all times while maintaining and building excellent customer relationships. This position has excellent advancement opportunities providing employees with the foundation needed for entry level management. The Route Driver is responsible for the safe operation of a motor vehicle in compliance with company policies/procedures and DOT regulations.
Regional Lifestyle Shopping Center
305 W. FM 1382, Cedar Hill, TX 75104
T: (972) 637-6300
F21 Red Job Fair: multiple positions available
Update 10/21/16: F21 has completed their hiring at this time.
Grimaldi's: meet the management staff
Multiple Positions Available (full-time and part-time)
October 17th – October 21st, 10am-6pm
305 W. FM 1382, Suite 136, Cedar Hilll, TX 75014