idX Receives Top Honor from Dallas Chamber
Date Published

Nov 13, 2015

Category

Business, Community Involvement, Events, General Info
IDX RECEIVES TOP HONOR FROM DALLAS REGIONAL CHAMBER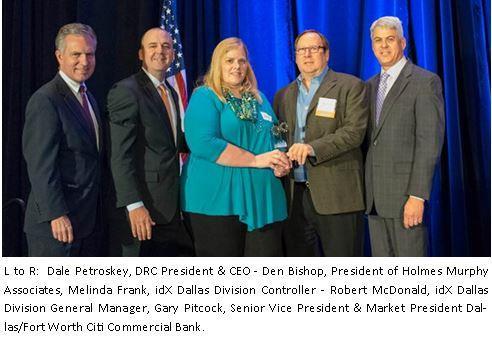 Cedar Hill, Texas, November 12, 2015 - idX Corporation, the preeminent manufacturer of consumer environments, was honored by the Dallas Regional Chamber with the "Community Facility Location, Blueprint Award." This award recognizes companies throughout DFW who exemplify best-in-class-growth, create jobs, expand operations, ignite innovation and contribute to the momentum of the regional economy.
In 2013, the company located its Dallas Division in Cedar Hill, Texas with a 260,000 square foot facility, hosting 80,000 square feet of manufacturing space and a 170,000-square-foot warehouse. idX Dallas offers wood manufacturing, panel processing, metal prototyping, assembly, finishing, post-lamination, warehousing, and distribution.
Dallas Regional Chamber recognized idX at the annual Blueprint Awards Luncheon, boasting the Cedar Hill plant's aggressive growth through contracts with large companies such as JCPenney, Soma, The Gap, and Charming Charlie. Since opening their doors, the company has more than doubled the number of jobs, with a total of 90 employees.
The City of Cedar Hill congratulates idX Dallas on this tremendous honor, recognizing their impact on the regional economy, while continuing community efforts within Cedar Hill.