Business Opportunities in Cedar Hill, Texas
Search Our Retail, Industrial and Land Properties
Thanks to the area's natural beauty, the City of Cedar Hill is well known for its recreation and culture. But Cedar Hill is also one of the brightest spots for economic development in Texas, due in large part to the prime location of land available for retail, industrial or office-based businesses.
Cedar Hill is considered 50 percent developed at this time, and there are properties available for startups, expansions and business relocations. When it comes to business opportunities in Texas, Cedar Hill offers several advantages, including short drives to both downtown Dallas and Fort Worth. For major industries in Texas, Cedar Hill's industrial areas are located on U.S. Highway 67, with Interstate-20, Interstate-35 and Interstate-45 nearby as well.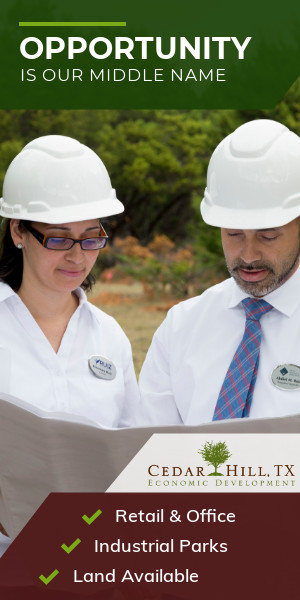 The Cedar Hill Business Park has direct access to railways and is a short drive to Love Field and DFW Airport. The proximity to airports, railways, and other shipping and business locations make it an ideal match for industrial companies. Learn how Cedar Hill became the perfect fit for apparel company PepWear.
New retail and office development activity throughout the city is designed with businesses, residents, and consumers in mind. Enhanced walkability for pedestrians is part of the ongoing City Center Development Plan designed to make Cedar Hill one of the best walkable cities in Texas. For businesses in the area – or businesses planning to open in the area – these enhancements mean more opportunity. When shoppers, hungry patrons and office workers can simply walk to their destination without the hassle of driving or looking for parking, they are more likely to stay right in town and use local businesses.
The next phase of this commercial development focuses heavily on three distinct areas within the City Center: Uptown, Midtown, and Historic Downtown Cedar Hill. These sectors of the city are zoned and ready for development.
Historic Downtown is undergoing a large mixed-use development project by Jim and Amanda Lake of Lake Moreno Partners. The goal is to preserve the area's distinct character and historic features, while incorporating a retail-office and work-live concept with both residential and commercial opportunities.
This all adds up to a business climate in Cedar Hill that is just right for industrial, retail and office businesses. The Cedar Hill EDC offers aggressive economic development incentives to facilitate and energize relocation and expansion.
As the city continues to grow, an opportunity exists at every turn. Click to search our full database of sites and buildings available in Cedar Hill.
Can't find what you're searching for? Connect with a team member by calling 972.291.5132 or email [email protected].